chokkey
Description
It is a launcher and task switcher that can be called from either the mouse or the keyboard.
It is usually placed in the task tray and does not interfere with other programs.
With a mouse, you can call it by holding down the left button and right-clicking. There is no need to move the cursor to the edge of the screen.
If you are using a keyboard, you can press J while holding down Ctrl and Alt. You can change the key combination.
By registering shortcut keys (chokkey), you can launch programs with fewer steps on the keyboard.
They will automatically disappear when the program is launched or when another program comes to the front.
Applications can be registered by drag and drop.
Supported OS
Windows 7/8/10/11
Screen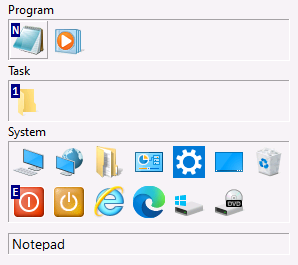 This is the screen that is displayed when you call it.
The shortcut key is displayed in the upper left corner of the icon.
Download
chokkey Version 3.0.0.5
(11/16/2021)